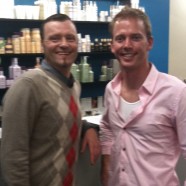 May

07
Tags
Related Posts
Share This
Paid to play…
I'm excited to say I just played my first paid gig in years.
To be fair, I'm not counting the $20 and a couple drink coupons the rest of The Honestants (my former band) and I had to split at Red Rock a couple years ago. That's another story.
But this one goes like this:
I had the chance to work with Tres Benzley, the owner of Aquarius Salon and Spa, on his company website a number of months ago. He was happy with the work that I'd done and suggested I come into his salon for a haircut. Shaggy as I was (and in dire need of some contemporary style), I happily agreed.
The original Aquarius was located just off First St. and the alley just east of Arlington. There I was treated to wonderful service: an amazing shampoo, haircut, and cup of coffee. During the cut, Tres told me they were preparing to move the Salon to Pueblo St. (near Rapscallions). When our conversation touched on my passion for writing and performing (and the performance challenge I'd given myself over six months ago), he suggested I come out and play for his Grand Opening. Again, I happily agreed.
Armed with my little P.A., my trusty ovation, and a long list of originals and covers, I played for the partiers at the newly opened Aquarius Salon and Spa (which is gorgeous, spacious, and easy to get to – well done Tres). The partygoers were wonderfully kind and supportive of my music. The songs (a mix of jazz standards, instrumentals, and my folk-jazz-funk-Americana originals) seemed to work well for the atmosphere.
I played between 5pm and 8. It was the longest solo gig I've ever had, and I learned a lot.
Firstly, I had to really monitor my breathing and voice control to maintain my voice the entire time. It takes focus and determination to last that long (queue my friend Eldar with his classic line).
Second, playing when there are gorgeous models walking around is distracting. Especially when they dance for your songs and keep smiling at you. I'm not complaining… just acknowledging the fact that I still have a lot to learn.
Finally, three hours of performance is hard on the brain. I was amazed by how much harder it got to concentrate on the music (and not just because of the models) as time went on. My fingers got slower, my brain misfired, and luckily I was able to find my place the few times I missed a chord or forgot a lyric. Most people were drinking and talking and so I think I got away with more than I should have. Or maybe all the fruit had been eaten by that point so there was none to throw.
Either way, tonight ended well. I had survived and the guests (those still around) seemed to have genuinely enjoyed the show. Tres was happy, and so was I. I don't know how to describe the high I get after performing, and tonight it was amazing. I couldn't stop smiling. And the little bit of cash in my pocket topped it off.
Thanks, Tres, for hiring me. Thanks to my dad for being an awesome roadie. Thanks to Ross (my biggest fan) for coming out once again. Thanks to Yulia and Diana – it was great to see you. And thanks to Arielle for distracting me.