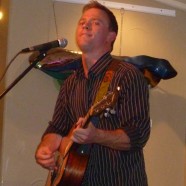 Apr

08
Tags
Related Posts
Share This
First Walden's Showcase
So Todd South asked me earlier this week if I'd like to play the showcase on Friday. I jumped at the opportunity. No but seriously, I jumped.
I've been playing lots of open mics over the last few months and getting the chance to stretch out and play a full set was exactly what I was hoping for. Todd paired me with another local band called JamB. They turned out to be not only a great band, but life savers.
My 50 minute set was going to include around 10 or 11 songs. A lovely crowd of friends, family, and other people who like coffee had gathered. Shortly after 7pm I started playing.
I told the crowd this was my first time playing in front of people to whom I wasn't related. They laughed. Then I reminded them that I lived in Arkansas for a while and that I had some really huge gigs there.
Fortunately for the audience, I had music material than stand up.
I have to admit, playing and singing almost every day this week really paid off. I felt on tonight. My vocals felt strong and at the same time not strained – I was able to sing softly and convey some of the subtle stuff.
"Into Open Arms" is one of my newest songs and is a song during which I once (a few weeks ago) had a PA go out on me. That night I literally unplugged the guitar, stepped forward and played… well.. unplugged.
Tonight however, the siren gods had something else in store. Three quarters of the way through the song I broke a string. Fortunately, the others stayed mostly in tune and I was able to finish the song with 5 strings. Unfortunately, I had 3 songs left in my set and I thought, well, I'm gonna have to cut it short.
But then something awesome happened. No, my roommate Bryan didn't throw panties onstage as promised. But the guitarist from JamB brought me his guitar and told me I could finish my set!
That totally made my night and while I know now I really need two guitars for any real gig I play, I really appreciated the simple gesture of musicianship.
I finished what honestly was the best performance of my life, thanks to a little help from my friends (love you Beatles).
Thank you JamB. Thanks to my friends and family who came out. And finally, thanks to Todd South for hosting the first of what are sure to become a great showcase series and believing in me enough to have me as the first act.
I might score some of the recordings from that show – if I do they'll be posted on the Songs page of this site.
I'm Chuck McCumber. I live and work in Reno, NV, where I'm finishing my MBA at UNR and where I play at open mics (and an occasional paid ::gasp:: gig) around town. Cecil's Refrain is my long time music project and this site is a place where I talk about my experiences playing and the fellow musicians, artists, and fans that I meet along the way. I'd love your feedback. And if you're ever looking to jam, hit me up.