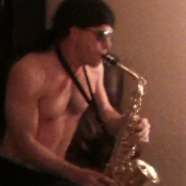 Apr

25
Tags
Related Posts
Share This
Sunday Serenade
It's 2:30 am on a Sunday night/Monday morning. It's been an interesting day of music.
I came downstairs this morning to find my roommate's friend hungover and eating Chinese food. She'd shown an interest in my guitars last Sunday morning (yes, last Sunday too) and since I figured she needed a pick-me-up, I restrung my acoustic and let her have a strum. She played "The Scientist" by Coldplay and I sang along – well as much as I could since neither of us could remember the lyrics.
Later this afternoon I went to my dad's house. After taking care of stuff for our motorcycles, he and I decided to jam. He needed to go over some songs for an upcoming gig he has in Virginia City (he plays with a comedy rock-and-roll band in Reno). So I played bass while dad played guitar and we sang an odd mix of The Beatles, Carly Simon, and Aretha Franklin. We played for a while before I had to head up to UNR and attend my second-to-last Deltasig meeting.
After my fraternity meeting I went home. Justin, my roommate, was playing his new saxophone. The truth is, he and I were both inspired a few weeks ago by Sergio Flores (aka Sexy Sax Man) and his viral youtube video. One evening Justin found a sax on craigslist and the next day he'd bought it. I persuaded him to let me give it another try (what would be the second try I'd given it since he bought it, and since I played the saxophone back in 5th grade). For those of you counting that was 16 years ago.
Tonight I finally figured out the notes to the George Michael song "Careless Whisper" (made truly famous by Sexy Sax Man). To be honest I only know the fingering (I have no idea what notes I'm playing – other than they sound amazing.)
Anyway, the concept of me learning "Careless Whisper" and playing it dressed like Sexy Sax Man has been a running joke between me and a lovely friend of mine. So, having figured out the tune (my cheeks and lips sore and exhausted) I donned some black pants, a wig I used for the Zombie Crawl, my trusty aviators, took off my shirt (big surprise), and had Justin film me. I sent her the video, but shenanigans like that aren't meant to stay private. Evidence below.





After finishing some homework (wow, I won't have to say that for much longer) I decided to go to Strega. What ensued was a 3-hour session of open mic awesomeness.
I walked in and there was an abandoned guitar on a table and people at the bar drinking. No one seemed interested in playing. But Jeremy, the owner of Strega, gave me a reassuring look and said, "You can plug in and play all you want."
I played 7 songs or so. For a few of my songs, Alan (of the band Merkin) played some hand percussion for me which was fabulous. All was going really well (people were even dancing sporadically) until "Into Open Arms," during which my voice cracked like I was thirteen. If you couldn't do the math thing earlier, I'm 27. I just kept going and made some wise crack (puns intended) after the song – but honestly it sounded more like my attempts on the sax earlier today than my own voice. Glad to know I can still fall on my face – things like that keep a man humble. Thankfully the rest of my set was decent and that moment of unexpected falsetto was the low point of the night.
Then Reese (a real-life New Zealander from Wellington) got up and started busting out songs from HBO's epic series, Flight of the Conchords. He literally knew all the songs. It was amazing. Most of us were singing along (Rhymnocerous, Leggy Blonde, "will someone please remove these cutleries from my knees"…) and I was impressed by how many people knew the music word-for-word!
The rest of the night was just as eclectic. Alan played some of his original stuff. There was a stand up comedian. Reese bought me a gin-n-tonic and I talked to his friend Savannah about going to LA to dive into music someday.
A number of the folks there tonight gave me some really meaningful compliments about my music – feedback like that is wonderful and genuinely inspiring. It's good to know that the songs I've written might touch some people like they touch me. Thank you Kayt, Jeremy, and Savannah.
At the end of the night Reese played American Pie and Rocket Man, with Kayt, Jeremy, and myself singing harmony. Then Kayt played a few of her originals and some covers like Leonard Cohen's Hallelujah. Finally, I got back up and played my lullaby "You want me," while Kayt gave some back up harmonies. It was an awesome, peaceful, illuminating moment.
Looking back, I'm not sure it could have been a better day. I just hope I can keep my eyes open tomorrow (today).
I'm Chuck McCumber. I live and work in Reno, NV, where I'm finishing my MBA at UNR and where I play at open mics (and an occasional paid ::gasp:: gig) around town. Cecil's Refrain is my long time music project and this site is a place where I talk about my experiences playing and the fellow musicians, artists, and fans that I meet along the way. I'd love your feedback. And if you're ever looking to jam, hit me up.