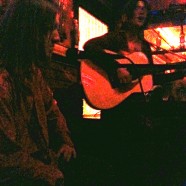 Apr

03
Tags
Related Posts
Share This
Strega, Alan, and being a real 'Merkin…
I decided to head over to Strega tonight after a long fraternity meeting – needing a little creative outlet to release some stress!
Got there around 9:30 and nothing was set up yet, so I was a little worried there'd be no show. But Alan, the bartender, assured me there would be an open mic, just as soon as his relief arrived so that he could become Alan, the open mic host.
He played a few songs first – one of which I'd heard before and like a lot. Apart from his own solo stuff, he plays in a band called Merkin with two other guys who were there (one of whom happened to be his replacement bartender).
Apparently their stuff is experimental rock and roll, with influences from Bowie, Pink Floyd, and Muse. I'm excited to see them play once they get back from rocking some venues up in Portland and Seattle. When Alan said Merkin, I assumed they picked the name to play off the common joke these days about 'Merica, Merka, and to be a real 'Merkin.
He agreed that yes, that was part of it, but that merkin was also a long lost word (at least for most of the population) used to connote a pubic wig, worn by prostitutes in the 1600s, to display their lack of certain sexually transmitted diseases. It's amazing what you'll learn at a bar on a Sunday night! Here's a link to the wikipedia page on merkins.
Then I played a few: Man in Black, Into Open Arms, You Want Me, If I Could Only, and Feel Like Dancing. I was really relaxed and was able to maintain more vocal control than normal – I was pleased with myself! Alan joined me with the bongos on the last one and some people were dancing.
It was a good set – I always love the relaxed atmosphere at Strega. It's like playing in someone's living room – probably because it used to be a house!
I finished the night dancing with Alan and some of his lady friends who had been enjoying Strega's many beverages while listening to another local singer/songwriter. She's in the picture for this story, but I've forgotten her name (I will find out and update when I get the chance). She had a great a cappella song – don't often get to hear those at open mics.
I'll be back Strega.
I'm Chuck McCumber. I live and work in Reno, NV, where I'm finishing my MBA at UNR and where I play at open mics (and an occasional paid ::gasp:: gig) around town. Cecil's Refrain is my long time music project and this site is a place where I talk about my experiences playing and the fellow musicians, artists, and fans that I meet along the way. I'd love your feedback. And if you're ever looking to jam, hit me up.